View Product Reviews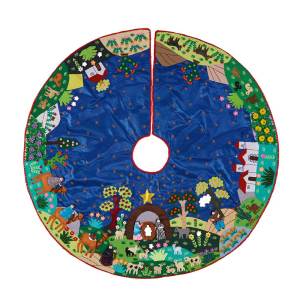 Gorgeous art from Peru!
May 13, 2023 | Posted By Rebecca Rhodes from Decatur, GA United States
This is the most beautiful Christmas tree skirt I have ever seen! It is hard not to leave it out all year so I can admire it constantly. The detail of the work is amazing!
Try again next Christmas
Feb 28, 2023 | Posted By Becky from Decatur, GA United States
No idea - I was told it was no longer available. Hope it will be back soon!
Exquisite work of art!
Feb 4, 2022 | Posted By Sharon Bauer from WATERTOWN, MA United States
The loving detail in this Christmas tree skirt magically brings the Nativity to life. I can't wait to see the wonder in my grandchildren's eyes when they see it next Christmas. This is definitely a family heirloom, sturdily made to last many decades. It is well worth the price, actually a bargain considering the hours of artistry that went into creating it.
Exquisite fabric art
Jan 3, 2022 | Posted By Sharon Bauer from Watertown, MA United States
I was moved to tears by the beauty of this fabric art, obviously crafted with love and reverence for the Christmas story. I can't wait to see my grandchildren stroking the soft animals and the hay around the baby Jesus. I echo the words "heirloom" and "keepsake" that other reviewers have used. This piece will be treasured for many years in your family.
Well worth the price
Dec 19, 2021 | Posted By Beth Grose from Richmond, CA United States
This tree skirt is even more beautiful than the picture. The artistry is first rate. I am not using it as a tree skirt, but as a centerpiece in my large circular table. My cats inspected it but have not been interested in rearranging any of its features. So happy with this purchase, thank you, SERRV!
Lovely piece of art
Dec 15, 2021 | Posted By Docwgk from Mobile, AL United States
This piece is amazing. Beautiful workmanship, very detailed and colorful. Truly an heirloom piece to be passed from generation to generation. Not really appropriate for a full size tree due to its small size but perfect for tabletop display.
glorious piece of artwork
Dec 11, 2021 | Posted By Victoria L Jordan from San Diego, CA United States
I have been looking at this tree skirt for literally years and finally ordered it. (I don't even have a Christmas tree because I have 4 cats.). It is absolutely beautiful! The amount of work and craftsmanship in it are amazing and done with obvious care. It will become a treasured heirloom.
Beautiful Handiwork!
Dec 4, 2021 | Posted By Amanda from Gaithersburg, MD United States
You can clearly see how much thought and detail went into this. Highly recommend!
Wonderful tree skirt
Nov 27, 2021 | Posted By TH from CH, NC United States
I love this tree skirt. It is a piece of art! It is a little on the smaller size, but it fits fine under a standard sized tree and covers our relatively large tree stand perfectly. Delivery was efficient, too.
Christmas tree skirt
Nov 26, 2021 | Posted By Lois Marshall from Spruce, MI United States
I've been wanting this tree skirt for years and it is beautiful. I love it.
Wonderful addition to your holiday decor
Nov 3, 2021 | Posted By Rebecca Bartlett from Ann Arbor, MI United States
I love everything about this tree skirt! It has so much amazing detail and the folk art aspect makes it feel homemade and lovely. I can't wait to display it around our Christmas tree. MY children especially loved it, there were so many details and it opened up wonderful conversation about why we celebrate Christmas and Jesus's birthday. It's a keepsake for sure!
So perfect!
Jan 31, 2021 | Posted By Chelsea from Minneapolis, MN United States
I adore this tree skirt! It is the perfect size and is a true work of art. I will cherish this for years to come.
Nativity Tree Skirt
Jan 24, 2021 | Posted By LILA WRIGHT from Auburn, AL United States
The picture does not do it justice, it is so absolutely beautiful and unique. I almost hate covering it up with presents, I think I might display it over the back of a chair or the sofa.
Beautiful!
Jan 11, 2021 | Posted By Meaghan from Medford, MA United States
Absolutely beautiful. I feel as though I could stare at this beautiful work for hours. I look forward to putting it around our tree next year. I did notice that there is not a fastener on it. Does the artist have a recommendation for what I could add to the skirt to hold it in place? Would adhesive velcro work or would it be better to sew on a hook of some sort? Thank you!
Usually these stay in place without a fastener (unless you have a cat like mine that loves to run and slide on it!). We suggest something simple like a safety pin could do the trick.
Beautiful work
Dec 5, 2020 | Posted By Gisele Buehler from Spring Hill, FL United States
Very pretty Tree skirt depicting the Nativity. Drop from center to edge 24" so not very large but very colorful and striking. Not one to be covered with packages under the tree.
Beautiful handmade tree skirt
Dec 5, 2019 | Posted By Candy from RECTOR, PA United States
I received my beautiful handmade tree skirt in a timely manner and the quality is first rate! I love the beautiful royal colors and the scenery around the skirt tells the story of the true meaning of Christmas as we celebrate the coming of our dear Lord Jesus Christ.
So Beautiful!
Nov 8, 2019 | Posted By Stacey Davis from Farmington, UT United States
This is so beautiful! I didn't think to check the size and it's smaller than I imagined, so check the size before you buy.
Unimaginably Beautiful
Oct 3, 2019 | Posted By Philip Rossetto from New Tripoli, PA United States
I hesitated and hesitated, but this year, I decided to take the plunge. With a discount incentive, I bought this incredible tree skirt. I will not use it as a tree skirt, instead as a dining room table cover and the center circle will display a unique Serrv nativity set. The applique workmanship on the skirt is beyond comprehension! Every inch around the skirt is a discovery of cleverness and artistry. This is why I will not display it under a tree. It needs its own prominent place. I am completely happy that I finally bought this work of art. You will definitely NOT be disappointed.
SO beautiful!!
Sep 8, 2019 | Posted By Linda from Eugene, OR United States
This Christmas tree skirt is beautiful even beyond what I could have imagined. It's expensive, but I fully support the cost and hope the sale price helps the artists who created it. It's quite possibly the most beautiful thing I have ever ordered and I have no regrets at all. In fact, I am so thrilled with the incredible quality of the skirt that I've decided I will give it as a gift, knowing it will be loved and appreciated by my daughter-in-law.
Arpillera tree skirt
Oct 27, 2018 | Posted By Karen D Bradley from Columbia,, MO United States
I wept with JOY when I opened the package! I had wanted something memorable for my daughter and her new husband for their 1st Christmas in their home and was so pleasantly surprised! It was perfect and even greater than I anticipated. I know this will be a treasured part of their Christmas now and can only imagine the anticipation in any future grandchildren's hearts as this is placed below their tree in anticipation of Christmas and Jesus's Birthday celebration. I can't wait to celebrate with them this Christmas as we share this Holy celebration with them. Wish I could hug and personally THANK the artists for their gifted work!!
Great choice!
Dec 14, 2017 | Posted By Judy from Santa Barbara, CA United States
I looked for a nativity tree skirt and all I found were kits to make my own. This beautiful skirt was so detailed, colorful and perfect size for my corner. The best part was it arrived days before I expected it to. What an extra special gift for my family.
Tree Skirt
Dec 15, 2016 | Posted By Julia from Abilene, KS United States
I have been looking for over 20 years for the perfect tree skirt, and finally found it with this one. It is just so beautiful, so detailed, and so well made. I haven't ever been this excited to put up my Christmas tree! Just note, I don't get a huge tree, only 6 ft tall and not very wide. This tree skirt would not fit a tree any larger than mine.
Beautiful!
Nov 30, 2016 | Posted By L from Wichita, KS United States
Obviously took much time to make such awesome details. My girls love it!
DizztDZS
Jan 7, 2015 | Posted By Dianne from Madison, WI United States
This is a BEAUTIFUL and carefully made item. Definitely an heirloom. Everyone loves it!
Made a Wonderful Gift
Aug 6, 2013 | Posted By Tracy from Durham, CT United States
I gave this as a gift and the person said it was the best gift they had ever gotten. I thought it was beautiful and plan to buy another this year.
So beautiful!
Jan 4, 2013 | Posted By cindy from hermantown, MN United States
Only wish it was bigger other then that it is perfect. Love love it.
Beautiful work!
Dec 11, 2012 | Posted By Cindy from duluth, MN United States
This is so amazing. It's a little smaller then I thought it would be but well worth it. It looks even better then the picture. I also bought the matching pillow. Breathtaking together!
Amazing Detail
Nov 30, 2011 | Posted By Angela R from Columbia, MD United States
I put this on my Christmas wish list and received it. It is really an amazing item. The amount of detail, creativity and variety really makes me happy. I think my kids will love looking at it year after year. The photos don't do it justice!