View Product Reviews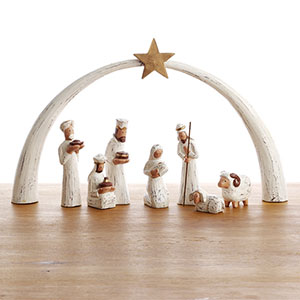 Beautiful
Dec 6, 2023 | Posted By Donna Nolan from Dawsonville, GA United States
This is a beautiful nativity. I highly recommend.
Beautiful Nativity
Oct 20, 2022 | Posted By renee magglietti from canton, CT United States
I have had this nativity for about 5 years. I have 87 nativities in my collection. This is in my top 5!
Love it!
Oct 21, 2021 | Posted By Shawna from Phoenix, AZ United States
I saw this in a Christmas shop in Sedona before the pandemic hit and regretted not getting it. Bought it as soon as I could on SERRV. It's beautiful. I'm not sure why others mentioned not having a Joseph but he's in the picture, description and in the one I received. Looking forward to setting it up for the holidays.
Joseph is included!
Sep 26, 2021 | Posted By Richard Hypes from Bluefield, WV United States
A charming nativity scene. Many of you have lamented the missing Joseph figure. That IS Joseph and not a shepherd. The set includes Mary holding the baby, Joseph, three wise men, two sheep, and a decorative arch with gold star.
Love it, would love it even more with a Joseph
Jan 1, 2020 | Posted By Carolyn Hui from Madison, WI United States
Before I bought this set (which was out of stock online, but available in the Servv store near where I live) I read the previous review stating that there is no Joseph figure. I still really love the set, so I purchased it anyway. I love how it looks in our home and I don't regret my purchase. However, I do wish the artist would add a Joseph figure to the set. If he carved Joseph figures and made them available for purchase separately, I would definitely buy one. Though Joseph wasn't necessarily needed for the virgin birth, his own story of trusting God in obedience is worth remembering at Christmas time and I feel somewhat of a loss at his absence.
Perfect!
Dec 15, 2019 | Posted By Christin Sanders from Starkville, MS United States
Absolutely lovely! The arch and star really make this scene stand out! It might be important to note that each piece if very lightweight - a consideration if it will be displayed somewhere that might get knocked over or jarred. But it's beautifully made and just perfect for our home!
gift
Dec 2, 2019 | Posted By peggy kelley from columbus, OH United States
Love this nativity set! I bought it for my daughter for a Christmas gift. Now I want one of my own! Love the charm and simplicity of it!
Beautiful and perfect
Nov 17, 2018 | Posted By Emily from Saint Paul, MN United States
The star arch is a lovely concept. I have it displayed on my piano! So well made, carefully packaged, and shipped quickly.
Beautiful!
Feb 4, 2017 | Posted By Anna from Gladstone, MO United States
This nativity scene is the perfect size. I got it to replace my big old one. It has all the same figures but takes up so much less space. It's very pretty yet simple.
buyer
Jun 29, 2016 | Posted By vicki from rocky river, OH United States
unique and a great addition for nativity collectors
Simple yet majestic!
Dec 19, 2015 | Posted By Susan Stoltz from Anaheim, CA United States
The simplicity of these pieces reminds me of the humble beginnings for the Christ child. It's just beautiful and sculptured by talented hands!
Beautiful
Dec 2, 2011 | Posted By Paula Phipps from Lynn, MA United States
I am very happy with this beautiful Nativity. It is just as pictured, fine workmanship. Only I didn't notice from the picture in the catalog, there is no Joseph figure. It includes 2 sheep, shepherd, 3 Magi and Madonna & Child. Anyway, I am still very happy with it, and happy to replace the old plastic one I've had for years.