View Product Reviews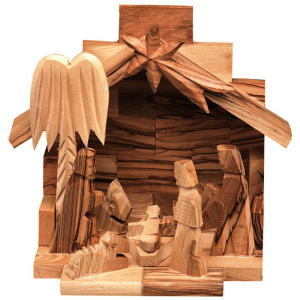 Very nicely done carvings
Nov 15, 2023 | Posted By Marjorie Tuckerman from Carmichael, CA United States
I look forward to giving these carvings as Christmas gifts.
Olive Wood Creche
Nov 1, 2023 | Posted By Janice A Brown from Manassas, VA United States
This was smaller than I expected but it is beautifully made and I really like that it is smaller. Beautiful.
Small and mighty
Dec 13, 2021 | Posted By Lauren Novatne from Reedley, CA United States
I bought this nativity because it's small and sturdy. My ambitious cat cannot move the pieces around, and the smaller size makes it a perfect decoration in my bookshelf.
Love it
Jul 12, 2021 | Posted By Rhonda raeder from Plymouth , WI United States
I ordered this product as a gift for a newly married couple. It's so beautiful that I would like to order one for myself too! Well made and just beautiful!!
When will my order arrive--ordered December 2nd now December 24th?
Dec 24, 2020 | Posted By Sally Foster from Rochester Hills, MI United States
I cannot comment on the merchandise because I have been waiting for 3 weeks for delivery. I did receive an email advising me that arrival would be delayed. No further updates.
Manger
Dec 1, 2020 | Posted By Linda T Hartle from Mocksville, NC United States
This is a really nice gift for someone. My complaint is it would be nice if a card would have been included describing the specially made manger. I highly recommend this being done so someone can really appreciate it.
Pretty
Jan 3, 2017 | Posted By Rachael from Atlanta, GA United States
Lovely - highly recommend.
Love the Little Creches
Dec 9, 2016 | Posted By Kathy from Tolland, CT United States
Bought this for my youngest granddaughter. I have had one for many years and bought three several years back for three older granddaughters. I hope they will treasure the creches and their meaning the same as I have.
Beautiful!
Oct 12, 2016 | Posted By Annemarie Iacobuzio from Yorktown Heights, NY United States
Small enough for a coffee table but nice enough where it stands out! Very Happy! It was for a relative in a nursing home who needed a compact nativity