View Product Reviews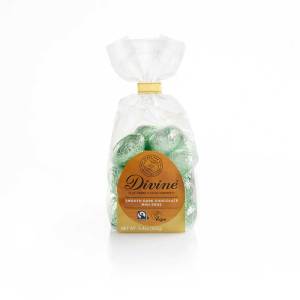 Fantastic
May 23, 2023 | Posted By Amy Olson from Inver Grove Heights , MN United States
I love divine chocolate and these are wonderful. I wish they sold them all year round.
Great Chocolate
May 8, 2023 | Posted By Amy Olson from Inver Grove Heights , MN United States
Great chocolate, highly recommend.
Divine chocolate
Apr 13, 2023 | Posted By Beth Crane from Montgomery, VT United States
Divine chocolate is delicious!
Public Health Researcher who works in Ghana
Apr 30, 2022 | Posted By Jean Marie Naples from Suffern, NY United States
I support companies who produce fair-trade products that benefit local families - at this time in Ghana. I purchased this chocolate to support my family friends in Ghana and it was an enjoyable gift for my family here in the USA. The prices are always reasonable for a fair-trade product. Thank you for offering this product for the Easter holidays.
Best Dark Chocolate Eggs Ever
Apr 19, 2022 | Posted By Joanne LaPorte from Columbia, MD United States
Everyone I shared them with agrees with my title.
Yummy!
Apr 19, 2022 | Posted By Kimberly J Twomley from Atlanta, GA United States
These are the rich, rich flavor that originally got me hooked on dark chocolate. Serious dark and delicious.
Delicious!
May 4, 2021 | Posted By Molyb from Cheyenne , WY United States
Divine dark chocolate Easter eggs
Apr 28, 2021 | Posted By Barbara Bair from Lexington, MA United States
This is my favorite chocolate so it is a must-have for Easter giving to my family. No store around me sells this anymore so I am so happy that I can order it through SERRV.
Scrumptious Chocolates!
Apr 4, 2021 | Posted By Joanne Lenigan from Pleasanton, CA United States
I bit into a Divine 70% dark chocolate Easter egg from Ghana/Germany, and it was truly scrumptious. The lingering sweetness is truly divine!
Divine?
Apr 13, 2020 | Posted By Peg Roberts from Mount Tabor, NJ United States
I found the dark chocolates to be extremely dry!