View Product Reviews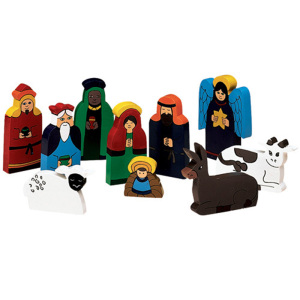 Great gift for young children
Dec 19, 2022 | Posted By SUSAN SCOTT from Sacramento , CA United States
I bought this for my great nephew, almost two and who was baptized this year. He's playing with the characters and his parents are teaching him the Christmas story.
Fun colors
Oct 11, 2022 | Posted By Amy from Madison, WI United States
Looks like a quality product in fun colors. Sending it to grandnephews for Christmas. I like that it was shipped with each item protected in its own plastic bag section.
Hands-on Nativity
Jan 30, 2022 | Posted By Margo Vanderhill from Alton, IA United States
This brightly colored nativity is a sturdy set of figures that can help children to act out the Christmas story in a way that is meaningful to them.
Gift for grandson
Jan 14, 2022 | Posted By Ruth Hainsworth from Riverside, RI United States
I bought this for my 3 year old grandson because I wanted him to be able to play with the set in the hope it would make him curious about the story which it did. I highly recommend this product as a pastor and as a grandmother!
Nativity scene
Jan 4, 2022 | Posted By Christopher J. Mussell from Ewing, NJ United States
Nativity Lesson
Nov 3, 2021 | Posted By JAR from KS United States
Great for my 2 year old. Wish skin color was more ethnically appropriate.
Exactly what I wanted
Dec 22, 2020 | Posted By Ann A Willis from Saint Louis, MO United States
This charming wooden Nativity set is exactly what I wanted. I wanted a scene that I could display where my grandchildren could be hands-on with it! This sweet set is perfect.. Excellent quality, price is right, all good!
Bright Wood Nativity
Dec 16, 2020 | Posted By Sylvia Shirk from Portland, OR United States
I would love to buy a version of this nativity with skin tones that reflect people of Palestine. I like everything else about your product.
Nativity Note
Dec 10, 2020 | Posted By Judy Corbett from Rock Hill, SC United States
This set is charming, colorful, and exactly what I expected.
owner
Dec 5, 2020 | Posted By carol tschudy from Neenah, WI United States
bright and cheerful . just what I wanted
Durable and Engaging
Jan 27, 2018 | Posted By Nikki from Dayton, OH United States
I have bought this set for several children in my life over the last 15 years so they could have their own nativity scene. It can survive some rough play and gnawing, and be ready again next year.
Colorful and fun
Nov 30, 2016 | Posted By Anna from TYRONE, GA United States
This nativity set is perfect for little hands that want to explore and act out the nativity story.
Consignment Sale
Nov 23, 2016 | Posted By Earlene Wheeler from Waldron, IN United States
A very popular item for families with young children
Love this little set!
Sep 19, 2012 | Posted By Holly from Denver, CO United States
I bought this so my 1 year old daughter would have her "own" nativity that was safe to play (and playact!) with. It's held up really well with two small children for many years and each Christmas they are happy to see it come out again.