View Product Reviews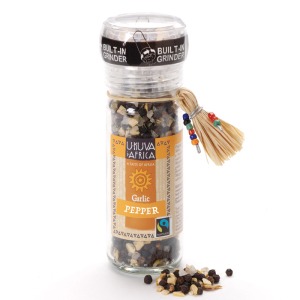 Garlic Pepper (formerly known as Madagascar)
Nov 9, 2023 | Posted By Kathy from Fleming Island, FL United States
This spice is a MUST in our house and every one we have introduced to it! Love it!
Same for me ;-)
Love this
Oct 16, 2023 | Posted By Jeff Endsley from SAVANNAH, GA United States
This is excellent the perfect blend, this is my first reorder, I bought the first at their shop on St. Simon's Island.
African Garlic Pepper
Jun 30, 2023 | Posted By Anthony Starn from Pataskala, OH United States
Exactly the product I ordered.
African garlic pepper
Jun 9, 2023 | Posted By Linda from Manchester, MI United States
This blend is just delightful and flavorful. I loved the packaging with the African beads. Thank you for creating this lovely blend. Blessings
Versatile Tasty Seasoning
Mar 17, 2023 | Posted By Sandra Schaefer from McLean, VA United States
Since I use fresh garlic frequently in cooking, I was not sure I "needed" this blend of black pepper, salt, garlic and parsley. However, it has proven itself a useful addition! It has a good balance of pepper, salt and garlic (not too salty). This was very good on a grilled steak, veggie salad, etc.. Just need to be aware that it contains salt (and some parsley), not just pepper and garlic.
Madagascar Garlic Pepper
Jul 19, 2022 | Posted By Alanla from Columbus, OH United States
A friend gifted Madagascar Garlic Pepper to me a few months ago, and I immediately got hooked! As my jar dwindled down, I ordered three more, to ensure that I would not run out! It's soooo good on a variety of dishes, and is absolutely AMAZING on mashed potatoes!!!!!!!
Wonderful flavor!
Feb 2, 2022 | Posted By Georgina Whitton from Jupiter, FL United States
This pepper is amazing. Brings out the flavor of any food. On my 4th jar 5 stars for sure!
not too strong
Mar 16, 2021 | Posted By Julie Moylan from Troy, MI United States
A nice garlic flavor, not too overpowering. Comes with its own grinder, which works great. Love the little bead tie, too.
Great way to add some quick spice to your meal
Jan 3, 2020 | Posted By Beth van Haaren from Tipp City, OH United States
Very flavorful, easy way to add some spice to roasted veggies or grilled meat.
On my fourth container ...
Oct 28, 2019 | Posted By John Connors from Stowe, VT United States
My daughter purchased this spice mix as a Christmas present for me two years ago. It is now my "go-to pepper" for nearly everything. I purchase more to have at the office as well as gifts & personal inventory. It is also a "gateway spice mix". When you order more, add one or two other of their spice mixes to the order. I have been adding a few additional mixes and have enjoyed the variety they bring to the ordinary side dishes.
For (nearly) everything
Apr 20, 2018 | Posted By w from Grinnell, IA United States
We love this spice! We put it on our pizza crust, sliced cucumbers, salad, pasta...the garlic and pepper combination enhances many foods. Very flavorful!
Delicious Madagascar Pepper and Garlic
Mar 21, 2018 | Posted By christine from Mattituck, NY United States
I purchased the Madagascar Pepper and Garlic not knowing what to expect. As an ardent FRESH PEPPER lover for years, I have to write it is the FRESHEST pepper and delicious. The garlic adds a unique flavor! I enjoy it! My taste buds enjoy it! Thank you for selling it to me!
Madagascar Garlic Pepper
Aug 8, 2017 | Posted By Sue from Dodge City, KS United States
The Madagascar Garlic Pepper is one of our favorite seasonings.
Peppery
Apr 19, 2017 | Posted By Patricia from Phoenix, AZ United States
Very nice blend...finding all sorts of dishes to use it in!
Spicey
Mar 10, 2017 | Posted By Judith from Rochester, MN United States
Prompt delivery, packaged well, delicious product!