View Product Reviews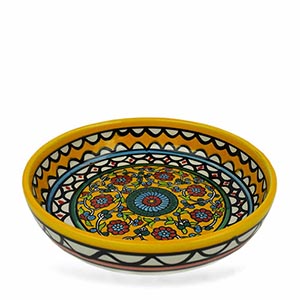 Beautiful Gift
Feb 4, 2022 | Posted By Colleen from Paradise, CA United States
My sister loved this dish. Small, perfect for 1 or 2 people
Beautiful
Nov 28, 2021 | Posted By Colleen D Jones from Paradise, CA United States
Very pretty dish. My daughter loved it!
So beautiful!
Feb 19, 2021 | Posted By Pamela Ajluni from Melbourne, FL United States
This colorful bowl is the perfect size for family meals and makes a stunning presentation. The diameter is the same as my Dutch oven, which makes it perfect for traditional Middle Eastern recipes that are cooked "upside down" in a pot and inverted onto a platter for serving. Excellent quality.
beautiful
Feb 17, 2021 | Posted By donna from Rolling Meadows, IL United States
The colors are so vibrant. It looks great being displayed in the kitchen.
Kept out all the time
Nov 28, 2020 | Posted By Ruth Chiarenza from LaVale, MD United States
I bought this bowl in Medium and Large and keep fruits and veggies in them. They are on my counter all the time, because they are just so beautiful
Beautiful bowl
Oct 20, 2019 | Posted By Marilyn Coleman from YAKIMA, WA United States
Looks so cheerful in my kitchen as a fruit bowl.
Pretty Kitchen
Feb 9, 2019 | Posted By Diane Henthorn from Minneapolis, MN United States
I love this yellow cheery multiple colored and intricately designed bowl. It brightens every corner however you choose to use it.
Large Yellow Floral Bowl
Mar 23, 2018 | Posted By Graciela from Cutler Bay , FL United States
Thank you very much for sending all the products I order. I would only like to comment that the item "Large Yellow Floral Bowl" came in Orange and broken. I would suggest you pack this kind of product a bit better. so they won't move inside the box. I must say that on the same day I call customer service and they commit to send me another piece. The lady who took my call, her name was Patty, was very kind and put no objections to replace the bowl. I has not arrived yet, but i hope this time it comes right. Regards, Graciela
Thank you for giving us the opportunity to make this right for you. We have also shared the breakage information with our warehouse team so they can double-check the packing.
Incredibly beautiful
Feb 3, 2018 | Posted By Joy from SAINT PAUL, MN United States
This bowl is bright, gorgeous and versatile. Vibrant! I love it. Can be used as a stand-alone piece at the center of your table, a fruit bowl, a serving bowl, or can simply be displayed. It's stunning. Bought this for myself as a housewarming gift in our new home and we will treasure it for years! Love that it was made in the West Bank.
success
Feb 21, 2017 | Posted By Gary from Ann Arbor, Michigan, MI United States
This was purchased as a gift for my sister, who loved it.
Love this bowl!
Jun 30, 2016 | Posted By April from Murrieta, CA United States
This is the second ceramic piece I have ordered from this collection. The colors are vibrant and the bowl is of a heavy ceramic. These bowls will be put to use beautifully in my kitchen for a very long time!
Beautiful bowl
Jun 29, 2016 | Posted By Kate Harris from Tucker, GA United States
I wanted this bowl the minute I saw it. When it went on sale, I grabbed one. It matches my tablecloth perfectly, and has the added benefit of coming from Palestine.
gorgeous!
Nov 25, 2015 | Posted By Del from Mobile, AL United States
arrived today and is even more beautiful than the photograph was able to show. Incredibly rich color. Looking forward to acquiring more pieces.