View Product Reviews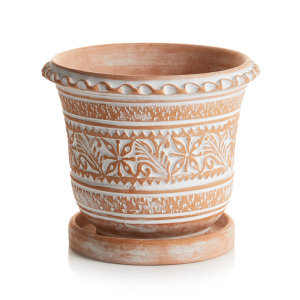 Great planters!
Aug 23, 2022 | Posted By Karen Royer from Severna Park, MD United States
Beautiful planters! I have one on each side of our front steps and they look great. They arrived very well packaged too. Thanks!
Wonderful planters!
May 21, 2022 | Posted By Amy from New York, NY United States
I keep buying yet another one, and have my favorite plants in them. They are beautiful and they work beautifully, not holding too much water or drying out too quickly.
Beautiful planter
Jan 6, 2022 | Posted By Ronnie Brancazio from Flushing, NY United States
I bought this planter as a Christmas gift for a friend who does a balcony garden in NYC. She was delighted with it, and we both admired the beautiful design and the fine craftmanship. I have bought many pottery items like this from SERRV, as gifts and for myself, and they are always appreciated.
Gorgeous planter!
Dec 20, 2021 | Posted By Nancy Deines from Sheridan, WY United States
This is so much more beautiful in person than online. Wish I had bought 3 while on sale and free shipping.
Review For Large Garden Planter
Sep 12, 2020 | Posted By Michelle Mmalynd from Albuquerque , NM United States
The most beautiful large planter I've seen! I'm thrilled to have it in my home, and it makes the plant it's holding happy too!
Perfect pots!
Jul 10, 2020 | Posted By DEBORAH A LANNI from Stockton, NY United States
I now own five of these pots/saucers and will likely order more. They are beautifully made, right-sized and totally functional. I mostly grow Boston ferns in them. They go out on the porch in the summer and come into the addition for the winter, looking great in both locations. Also, they are shipped very carefully with paper shred protection, and no plastic.
Great Buy
May 16, 2020 | Posted By Pat Moyer from Flower mound, TX United States
Flower pot was exactly as described and packaged to survive transportation..
beautiful!
May 6, 2020 | Posted By Christi from Portland, OR United States
Beautiful planter! It was very well packaged for shipping, and will look splendid on my patio.
My new pots
Sep 26, 2019 | Posted By Mary from Fairfax, VT United States
I am so happy with these beautiful , well-made pots.They look like they were carved from wood. I have them on tables in my kitchen living room where I can see them. I thank the hands that made them.
A work of art
Aug 25, 2019 | Posted By Sara Garrett from Big Spring, TX United States
This is so pretty that I've set it on the dining room table to look at awhile before I plant something in it. Arrived well-packed and undamaged. I ordered the large one and it is 9 1/2 inches tall and 10 1/4 inch diameter. If that's the large, I wish they had one even bigger!
Wonderful planter!
Aug 9, 2019 | Posted By Amy Heinrich from New York, NY United States
I already have another of these and a smaller one. They are lovely, not too heavy, very attractive, and handle my larger house plants.
Terra Cotta Planter
May 25, 2019 | Posted By Laura T. from Evansville , IN United States
The large terra cotta planter is the centerpiece of my little garden area. It is surrounded by small, animal shaped terra cotta planters. It's such a beautiful piece!!!
Large & Small Garden Planters
Jan 4, 2019 | Posted By Anne Pacheco from La Mesa, CA United States
Our school purchased these ethical/fair trade planters for our office. They are beautiful and unique. We are excited to add another fair trade item to our school as we continue to educate our parents and students about their purchases and how they can change people's lives. We would also like to mention that it was well packaged for shipping and appreciate the shredded paper to reuse or recycle.
Beautiful Planter
Oct 7, 2018 | Posted By wendy turetsky from westhampton beach, NY United States
The planter is a work of art and is durable and practical as well!
Terra cotta pots
Mar 1, 2018 | Posted By PAT from Honolulu, HI United States
Purchased both sizes of these beautifully decorated terra cotta pots. Quality workmanship, nicely finished and the vessels will be lovely also as they age. As the shipping materials used were so densely packed around the pots arrived in perfect condition. Quick turn around time to receive these products.. Will buy again from this company.
Very Nice Planter
May 16, 2017 | Posted By Marietta from Hamden, CT United States
This planter is very attractive addition to my garden/patio. Well made and sturdy. The packaging was excellent, protecting the planter so it arrived in perfect condition.
Hit it out of the park!
Apr 24, 2017 | Posted By Nancy from Natiick, MA United States
'"Thank you! The unique terra cotta flower pot arrived today and I was thrilled! What a lovely surprise! It arrived safely and now waits to be filled with color to adorn our deck all summer!" That's what my friend wrote after receiving this as a gift. It's stunning in all its detailed ceramic work: a real keeper!
Beautiful pot
Mar 17, 2017 | Posted By Betty from Naples, FL United States
This is the prettiest pot,, especially for the price!
A Work of Art
Feb 28, 2017 | Posted By Sarah from Georgetown, TX United States
The picture of this flower pot does not do it justice! It is absolutely beautiful and very well made. You cannot miss with this.
Beautiful!
Jan 11, 2017 | Posted By Karen from Tacoma, AL United States
Solid,heavy, beautiful pot with its own drainage tray. Might order another!
Beautiful
Dec 17, 2016 | Posted By Karen Mary from Euclid, OH United States
A gift. Can't wait to incorporate it into my lovely garden.
Beyond Expectations
Aug 25, 2016 | Posted By Carla from Phoenix, AZ United States
I have planted large aloes for my patio in these attractive pots. Perfect for the desert!