View Product Reviews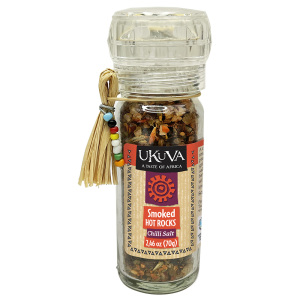 Smoky and So Good
Aug 20, 2023 | Posted By Diana Solomon from Culver City, CA United States
We love this spice! It is really good, a little spicy but not too much and makes every dish I've put it on, even better! Highly recommend it.
Great Smoked Salt!
Apr 25, 2021 | Posted By David Kurimsky from Boston, MA United States
This is a great hot pepper smoked sea salt. It's my go-to seasoning salt. I put it on everything.
Hot Rocks Yeah!
Jan 19, 2021 | Posted By Diana H Solomon from Culver City, CA United States
We first got Hot Rocks from Ten Thousand Villages in Evanston, Ill. Liked it so much that I bought more from Serrv. It's smoky, spicy but not too much, and just makes many foods better!
Perfect for grilled steak, pork and chicken
Sep 22, 2020 | Posted By CW from Morganville, NJ United States
This seasoning is just perfect for grilling. The kids absolutely loved it. It's like eating in a fancy restaurant.
Great Addition
Aug 26, 2020 | Posted By Susan Munson from Reeds Spring, MO United States
Was given some of this as a gift and had to buy more when we ran out.
Love this - tastes like bacon!
Jun 22, 2019 | Posted By Anne from Greenbelt, MD United States
We keep buying the Smoked Hot Rocks - both for ourselves and for our friends and family! It makes anything taste good. We think it tastes like bacon, although it is completely vegetarian.
Delicious.
May 2, 2019 | Posted By Peggy Carey from Middlefield, CT United States
Smoked Hot Rocks is on the table for every meal. Great on eggs, chicken, roasted veggies, and potatoes.
Good
Apr 30, 2018 | Posted By Jasmine from Columbus, OH United States
I actually tried this seasoning for the first time when it was given to me as a gift. Now it is a staple in some of my recipes. I'm glad I was able to find it because when I ran out I was getting complaints. Lol. It's really good in pasta and there was a speedy delivery.
Can't live without it
Nov 19, 2017 | Posted By Tina from Chicago, IL United States
The Hot Rocks Smoked has become an indispensable item in my kitchen. Absolutely delicious on eggs, baked potatoes, vegetables, meats. I use it everyday.
Great Stuff!
Jul 2, 2016 | Posted By Richard from Saginaw, MI United States
Hot Rocks seasoning gives a little kick to your favorite meats. The smoked peppers give it a unique flavor we haven't found anywhere else. We like it so much we had to reorder 2 this time around!