View Product Reviews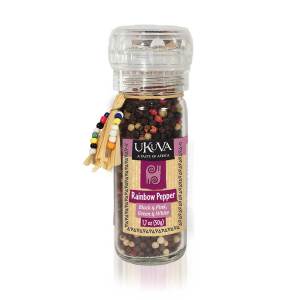 Rainbow Pepper Blend
Jun 14, 2023 | Posted By Trudy Landgren from Edina, MN United States
Absolutely the best pepper blend ever!
A Gift for ME!
Nov 22, 2022 | Posted By Naomi Seedberg from LIVONIA, MI United States
I needed more whole pepper corns and ordered this for myself. I wanted an excellent quality and variety of spice. Can't go wrong!
Love this pepper
Feb 8, 2022 | Posted By Rita Crimi from Danbury , CT United States
Best pepper I've ever had.
Great pepper
Mar 10, 2021 | Posted By Maureen Santina from Upper Black Eddy, PA United States
This pepper has a more complex taste than simple black pepper, it's a great addition for cooking and cold dishes.
great item
Jan 29, 2021 | Posted By Laura from Berlin, VT United States
Hooray for Fair Trade on daily items! High quality grinder that allows you to access whole peppercorns as well. And of course, delicious!
Fresh and tasty pepper
Jan 27, 2021 | Posted By Rita Crimi from Danbury , CT United States
Love this pepper
Sep 16, 2020 | Posted By Sherri D from Atlanta, GA United States
This rainbow pepper is so delicious. We keep it on our table to add flavor to just about every meal. I highly recommend trying it.
Love these spices
Sep 10, 2020 | Posted By Bill Wolf from Camp Hill, PA United States
These spices really kick up my cooking
Puts Other Pepper Shakers to Shame!
May 11, 2020 | Posted By Chelse F. from Orlando, FL United States
This is literally the best pepper my husband and I ever had! He was skeptical about buying it because he thought it was too pricey. But after using it (and it lasting a really long time compared to how much we cook), he asked me to buy more. You really can taste the deep pepper flavor. Any other pepper we've had has been weak. Definitely worth it!
Literally the Best Pepper I've Ever Had!
Dec 2, 2019 | Posted By Chelsea from Orlando, FL United States
Normally I add pepper just to add it, but I'm never able to REALLY taste it. But this pepper actually has a strong flavor. I can actually taste it when I use it in food. It's worth buying!
My new fave
Nov 11, 2019 | Posted By Carla from Roanoke, VA United States
I use this as my daily pepper in all my cooking. Full of flavor, it adds so much to my dishes.
Enjoy the gourmet pepper!
Sep 17, 2019 | Posted By Joan Hoy from Eau Claire, WI United States
I love the finishing touch that a grind of this pepper adds to salads and cooked dishes, even to something simple like tomato slices on toast. I buy multiples and use them as small gifts.
World's best pepper
Jun 14, 2019 | Posted By A Sigleo from newport, OR United States
This is our favorite pepper - fresher than market products. And a favorite house gift!
Sandra S.
Jun 10, 2019 | Posted By Sandra Schaefer from McLean, NY United States
I reordered the Victoria Falls Rainbow Pepper because it is so tasty on so many foods, adds attractive colors, and supports my ethical values. It gives me joy!
Tastes great, easy to use
May 16, 2019 | Posted By Grace Osora Erhart from Hadlyme, CT United States
Very good product I use it a lot just wish it was in some kind of metal or paper packaging rather than plastic .
Glad you like it! The bottles are recycled glass, and the top grinders are plastic.
tasty
Feb 10, 2019 | Posted By tak from Clinton, PA United States
glad to support female entrepreneurs
Victoria Falls Rainbow Pepper
Feb 8, 2019 | Posted By Barbara Korbler from Endicott, NY United States
Over the years I have bought products from you, mostly handicrafts. A year ago I decided to purchase a bottle of Victoria Falls Rainbow Pepper, along with several other food products. Although i still have about half a bottle left, I purchased another bottle to make sure that I had it on hand. This blend is extremely flavorful without being overpowering or highly spiced. I also like that it contains no salt, as my husband and I are trying to watch/lower our sodium intake. The pepper blend works well with a variety of foods, complimenting the flavor of the food without either being overpowering. Because I was so pleased with the pepper, I decided to add several other food products to my last order. Thank you for providing such a wonderful service; I praise and recommend SERRV to other people.
Thank you!
Victoria pepper
May 12, 2018 | Posted By Donna from Youngstown, OH United States
Product is great. But this was a gift and one of the two bottles I ordered as part of the gift arrived broken.
Donna, we are so sorry to hear that. Customer Care will be in touch to arrange a replacement for you.