View Product Reviews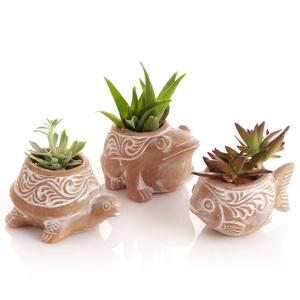 Pond Critters
Jul 18, 2023 | Posted By May C Brown from Stone Mountain, GA United States
These critters are adorable and make great gifts.
cutest ever!
Mar 3, 2023 | Posted By Kate McMahon from Alexandria, VA United States
The pond critters are so cute! they are perfect for succulents!
Cute Critters
Jan 2, 2023 | Posted By Carol Blanchard from Mt Pleasant, SC United States
The three little critters are so very cute and well made. They are great for succulent plants.
Sweet Pond Critters
Apr 12, 2021 | Posted By Elizabeth Dahdah from Burlington, MA United States
These are adorable and just the right size for the mini succulent plants I recently purchased. Very well packaged and fast shipping. I would purchase these again!
Pure Happiness
Jan 13, 2021 | Posted By Tawnya Lange from Alhambra, CA United States
I bought around 35 of these fun and happy sets for my entire team. They brought happiness and smiles during a difficult year for the entire world. Thank you for this wonderful gift.
So Cute
Mar 15, 2020 | Posted By bb from Damascus, MD United States
The little terracotta planters are adorable. I love especially the fish! Very well made too!
Love this
Feb 24, 2020 | Posted By sooz from Longmont, CO United States
these are very cute! fit on my windowsill and perfect for some small succulents I have that need to be re-homed!
Beautiful and well made.
Oct 9, 2019 | Posted By Sandra Graham from Dawson Creek, BC Canada
I absolutely love these planters. They are very well made. I would recommend these planters.
pond critters
Aug 4, 2019 | Posted By Florence Dunlop from Richmond Hill, NY United States
lovely small planters exactly as described
Very Nice
May 25, 2019 | Posted By Adrienne from Ravenswood, WV United States
The three pond critters are very sweet, the perfect size for small flowers.
Cute Planters
May 15, 2019 | Posted By A.M. from PITTSBURGH, PA United States
They arrived well-wrapped with no cracks or dings, and they look perfect on our window sill. I recommend these for anyone looking for a conversation piece or a gift idea.
Michele
Dec 4, 2018 | Posted By Michele Bergstrom from Eagle River, WI United States
The recipient of these cute planters is my daughter, a professor of Biology in a Midwestern college. I know she will delight in them because she researches fish, has a turtle and has always loved frogs and toads. They are perfect for her office!
Critter plant pits
Jul 23, 2018 | Posted By Jean from Petaluma , CA United States
I am very pleased with my critter pots! They are the perfect size for the window over my kitchen sink. Each one has a unique personality. The artisan says it makes her happy to make them and it shows in her finished product!
Pond Critters
Mar 22, 2018 | Posted By Kanan from East Brunswick, NJ United States
I have been eyeing these small pots for a while and they were out of stock. so when I learned that they are available, I got them. They look so cute and with the plants just wake up that corner of the room! Thank you for bringing such lovely things for us! Best Regards Kanan
Perfect
Mar 9, 2018 | Posted By Renee from Oxford, OH United States
I'm keeping one and, after putting a small succulent in the others, they will be gifts. Perfect for the price.
Very Cute Planters
Feb 22, 2018 | Posted By M Diane from Bremerton, WA United States
Love these planters. This is the second time I've purchased these because the ones I purchased last year came with two turtles and a fish - NO FROG!! I called and was told they substituted because (for some strange reason) they were out of frogs. This time, they arrived as advertised. They are great, but I'd advise anyone interested to purchase early in case you encounter a similar substitution. I would have only given three stars if they had asked for a review on my last order.
Our apologies for the substitution last year!
Cute Planters
Apr 19, 2017 | Posted By Patricia from Phoenix, AZ United States
Usable for very small plants
lovable critters!
Mar 5, 2017 | Posted By Linda from Albuquerque, NM United States
Absolutely adorable and they have a good "heft" - very sturdy!
Pond Critter Planters
Jul 14, 2016 | Posted By Cynthia from Harrimab, TN United States
The little turtle and the little frog pair nicely with the turtle planter and the frog planter. They look like mother and child.
Perfect and Pretty
Jul 6, 2016 | Posted By Patricia Reid from Raleigh, NC United States
This is ideal shape and construction. Just great!
For cactus lovers
Feb 26, 2016 | Posted By Paulette O. Gale from New Orleans, LA United States
Cute and perfect for new cactus pups.