View Product Reviews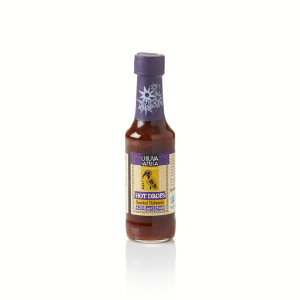 Smoked Habanero drops!
Jul 30, 2023 | Posted By Beverly S Smith from Oakland, MI United States
I was a little concern about the heat of these drops, but when I tasted it I couldn't believe the beautiful Smokey flavor followed by a hint of kick from the Habanero peppers! Love this so much my dad made an additional purchase of 6 more bottles!
Awesome sauce!
Apr 13, 2023 | Posted By Melissa Behar from San Diego, CA United States
I got this hot sauce for my husband and it's become one of his favorites--great flavor and smokiness with just the right amount of heat. His only complaint is that the bottle is too small! ;-)
Perfect sauce!
Jun 20, 2022 | Posted By Morgan from Buchanan, MI United States
Sweet, smoky, and mildly spicy with wonderful habanero flavor. I cannot eat very spicy food, and this sauce is perfect, as it adds mostly flavor and only a small "kick" of heat. Great on ramen noodles, potatoes, veggie burgers and grilled veggies. It is like a spicy BBQ sauce. This is my new favorite, and I love that it is fair trade!
Smoky Heat
Jun 17, 2021 | Posted By Peggy from Gilbert, AZ United States
Love this. It has the perfect blend of smokiness and heat.
DELICIOUS and unique sauce!!
Apr 15, 2019 | Posted By Jessica Jewett from Lafayette, IN United States
My husband loves this stuff more than any other sauce we've ever had. It's spicy, but way more flavorful than any other habanero hot sauce. We eat it on Mexican food all the time (not sure about it on pizza?).
Well loved
Mar 2, 2019 | Posted By K from Madison, WI United States
My partner loves this hot sauce. He puts it on just about every dish he eats. We go through several bottles a year at this point. Highly recommend!
wonderful
Jul 12, 2018 | Posted By Beth from San Jose, CA United States
I bought this as a gift for my son and he likes it very much - he has tried many hot sauces and this is one of his favorites. He says it has just the right bite and smokiness too.