View Product Reviews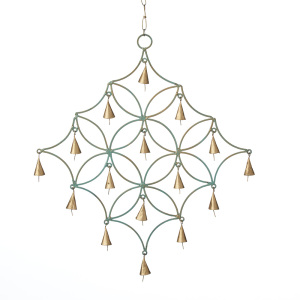 lovely, but no sound
Nov 27, 2023 | Posted By Sandra G. from Berkeley, CA United States
These chimes are yard art. They look lovely, but are too heavy to move in anything but a gale. I like looking at them on my porch.
Love it!
Apr 11, 2022 | Posted By Theresa Nixdorf from Islip Terrace, NY United States
the minted garden windchime came in exactly as shown. It is well made and simply beautiful
At home on lanai
Feb 19, 2022 | Posted By SHARON JONES from Ft Myers, FL United States
These chimes found a home on the line in front of large window. Enjoying them from outside and inside
Beautiful!
Mar 29, 2021 | Posted By Audrey from Norristown , PA United States
Very lovely but don't expect a lot of chiming--the bells don't really ring in the wind.
Minted Garden Windchine
Mar 23, 2021 | Posted By Barbara Burns from Port Orchard, WA United States
Very nice, has a delicate sound of the bells. I am hoping the metal based support will last longer in the wet Washington winner weather. This will be a gift to a neighbor who likes wind chimes.
I love it
Mar 21, 2021 | Posted By Lynne Wilson from Westminster, CO United States
Exactly as described. I'm looking forward to hanging it outside when spring is finally here.
Wind chime
Dec 24, 2020 | Posted By Karen from HUDSON, NH United States
Love It!
Oct 17, 2019 | Posted By Carol Dean from Rock, MI United States
Chime is beautiful. I have it on my front door, so I can hear it every time the door opens.
Adds to porch
Jan 10, 2019 | Posted By PDXRuth from Portland, OR United States
This is pretty, just like in the picture. Delicate bells. Don't know how good color in bells will hold up in weather, but very nice addition to my porch. Love the soft green with gold!
Nice!
Jan 2, 2018 | Posted By Jan from Hapeville, GA United States
Really pretty chimes. Love the green color and am curious what will happen as it gets exposed to the elements as it's on a screened-in porch. Very happy so far.
sturdy, and nice sound
Jan 1, 2018 | Posted By Marjorie from Ellsworth, ME United States
I purchased this chime as a Christmas gift that will be hung in the garden next spring. Right now we have it hanging indoors in a window, and it is beautiful. The small bells have a high pitched sound. It feels quite sturdy and I have faith that it will hold up well outside.
Lovely!
May 25, 2017 | Posted By Maddie from Stuart, FL United States
This is a beautiful and well-crafted piece! I love it! Thank you!
Beautiful chimes
May 20, 2017 | Posted By Paula from Spencer, MA United States
Lovely, delicate chimes will look elegant in my daughters new home!
Neat windchime
May 8, 2017 | Posted By Judy from Chatham, VA United States
The wind chime is not only pretty but the chime is quite pleasant.