View Product Reviews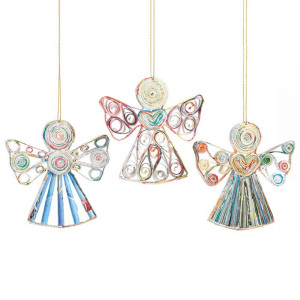 Paper Angels
Nov 29, 2023 | Posted By Becky LeClair from Hutto, TX United States
I loved the angels! Detailed, made from paper and very sturdy but yet delicate looking. I recommend these 100%. Each one is colored in multiple colors.
Love these
Sep 30, 2022 | Posted By Patricia Malanga from Wirtz, VA United States
These sold within days of putting them on display. We love all the quilled ornaments!
Fancy angels
Jan 20, 2022 | Posted By Debra Starling Watson from EDEN, NC United States
These angels are fancy and look great on my tree.
Vietnamese angel set
Jan 10, 2021 | Posted By Neil Olsen from Holladay, UT United States
I ordered the angels for my wife. She really liked them. I like to help the Vietnamese economy because they now manufacture quality products.
Review
Dec 24, 2020 | Posted By Conee Brown from Salina, KS United States
I have always been pleased with my purchases from Serrv. I am sure I will be pleased with this order too. I just haven't received it yet. I have heard that the post office is very busy and backed up. I am confident that it will arrive soon. Thank you!
Lovely angel!
Nov 7, 2019 | Posted By Liz Nevitt from Pickett, WI United States
Great quality. Beautiful!
Beautiful
Dec 2, 2018 | Posted By Carolyn Fagan from Columbia , MD United States