View Product Reviews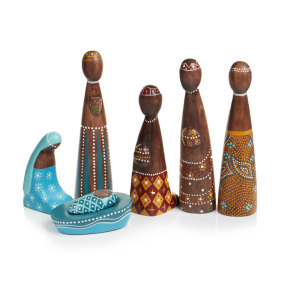 Beautiful
Dec 1, 2023 | Posted By Marie Waldvogel from Orem, UT United States
So beautiful and well made.
Contemporary Java Nativity
Nov 6, 2023 | Posted By Jo from Nashville, TN United States
Unique decorative nativity. Already sold the first one so ordered more. Great price point.
Can be viewed from either side
Apr 30, 2023 | Posted By Heidi Tunberg from Minneapolis, MN United States
I display this lovely set on a shelf "divider" between two rooms. It's perfect for this location because, when the figures are lined up to face baby Jesus, they can be viewed from either side. I also love that the figures are wearing sarongs. I collect international nativities and this is a perfect set to represent Indonesia or Malaysia.
Lovely!
Feb 3, 2023 | Posted By Martha Letasz from Fort Fairfield , ME United States
Beautifully crafted. Serene.
First choice
Nov 12, 2022 | Posted By SRR from Buena Vista , CO United States
Each year I search websites and catalogs for my holiday nativity. Of all I researched, I selected this beautiful wooden set from Java. Stunning. Beautiful detail. It arrived well-packaged and in a timely manner.
Java nativity
Nov 9, 2021 | Posted By Terri Coupel from BATON ROUGE, LA United States
I collect Nativities. This one is my 3rd from SERRV and I have another on backorder. That should tell you all you need to know, lol.
The simplicity of a Great Event
Jan 12, 2021 | Posted By Gador Canton from Bellevue, WA United States
I loved this Nativity for the simple forms, the beautiful colors and the details defining each figure.
I love this so much!
Dec 16, 2020 | Posted By Natasha Lutes from Waunakee, WI United States
Bright, vivid colors, excellent craftsmanship. This is just as beautiful as I had hoped!
Unique
Oct 16, 2019 | Posted By Susan from Auburn, AL United States
This nativity is lovely. Very happy with it.
Lovely
Oct 1, 2019 | Posted By Gayle Evertson from Georgetown, TX United States
I'm so happy that I ordered this item. It is absolutely beautiful. The workmanship makes this a standout. I have the perfect spot in my home for it for the holidays and perhaps beyond.
It is beautiful.
Dec 31, 2018 | Posted By Martina Raison from Downingtown, PA United States
I have been looking for a set like this for many years. I am so glad that I found your website. I will be looking at it often and I could possibly buy another one or two of the beautiful nativity sets as my friends have admired it.
Beautiful work
Nov 25, 2018 | Posted By Elizabeth from Cincinnati, OH United States
I collect nativity scenes. This is a beautiful, graceful, colorful addition to my sets.
My sister loves it!
Nov 23, 2018 | Posted By Lura Ellen Taylor from Clarksville, TN United States
This was a housewarming gift for my sister and she loves it! It matches her cabinet perfectly!
Best nativity figures ever!
Dec 29, 2017 | Posted By Diana from Zionsville, IN United States
These are such beautiful, hand-carved nativity figures. I have received numerous compliments -- especially on baby and crafted manger. You will be delighted!
Such Fine Quality of Work
Dec 14, 2017 | Posted By Nancy L from Pompano Beach, FL United States
My nativity set from Indonesia is lovely. The figures are more carefully designed and made than I expected. I love buying from Serrv knowing that my purchase assists those of little financial means to find work where their skill can be developed. The prices at Serrv are very reasonable and the quality of each purchase that I've received is excellent. I highly recommend using Serrv; I wish there were even more choices of products available.
Beautiful
Nov 27, 2017 | Posted By Sara from Washington, DC United States
We love this nativity set. It's lightweight but sturdy. I'm not afraid of my preschooler handling it! I just hope they make pieces to add to it. I would love to expand it.
Incredible!
Nov 22, 2017 | Posted By Elaine from Columbus, TX United States
Such artistry and commitment!
Contemporary Java Nativity
Jan 1, 2017 | Posted By Katie from North Yarmouth, ME United States
I received this nativity just in time for Christmas and I was delighted. It is a beautiful wooden set and each piece is beautifully painted in its own design. What a great addition to my huge collection of nativities. Thank you!