View Product Reviews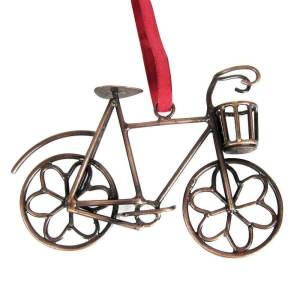 Bicycle Ornament
Dec 31, 2022 | Posted By Cheryl Jenkins from Rome, GA United States
The ornament is a nice tribute to someone who really enjoys riding a bike. This was given along with a donation through Holt International to help fund a bicycle for someone in another country. Beautiful detail and good quality.
Great ornament, very high quality
Jan 4, 2022 | Posted By John Walent from Sacramento, CA United States
A great ornament gift for a bike lover I know!
The family exercise
Jan 15, 2021 | Posted By Jan Hubbs from Owensboro , KY United States
Could not pass on the bicycle ornament for the tree. They didn't come until after Christmas. My husband and I ride during the summer and I got a stationary for Xmas to use during the winter months
Love it
Dec 17, 2020 | Posted By Jan Hubbs from Owensboro , KY United States
My husband and I ride bicycles on the trail around our city in the warm weather months. Had to have a pair for the Christmas tree
Bicycle orn
Dec 4, 2020 | Posted By Constance Renner from Columbia, MD, MD United States
Beautifully crafted. For my husband who at 72 still rides his bike 6 days a week. Pretty
Just the cutest
Jan 2, 2019 | Posted By Dani from Salt Lake City, UT United States
I am so in love with this ornament I'm just going to keep it in my house all year long!
Great gift for bikers
Jan 31, 2018 | Posted By Mary from Yarmouth, ME United States
I am very pleased with the unusual bicycle ornaments. Whether used on a Christmas tree or year-round as a home decoration, they are well-made and very different. Additionally, the fact that the purchase helps artisans around the world, makes it extra special.